Downingtown East High School Cougars
Ava (t-4th, 76) and Mia (t-6th, 77) each earned a medal in the PIAA AAA Girls Individual Championship!!! It was a great day to be a Cougar!

PIAA Individual Championship Results
Girls are DISTRICT 1 TEAM CHAMPIONS!!!

The Girls posted a score of 217 (4-over par) to win the team championship by 12 strokes. Ava O (66, -5) led the charge with Mia (72, +1) and Sil (79, +8) not far behind. The team will now compete in the PIAA AAA State Team Championship on October 25th! Let's go Cougars!!!
In the Girls' Individual District 1 Tournament, Ava O finished tied for 2nd with an impressive 2-day score of 4-under par. Mia finished 7th with a total of 3-over par (which was Ava's winning score in 2020). Both advance to the PIAA State Championship on October 19th! On Day 1 of the tournament, Sil finished in 16th with a 79 to miss the cut by one position.

Bryan (77), Jake (80), & Colin (80) each posted solid rounds in Day 1 of the Boys' District 1 Tournament, but fell short of the cut line.

Eight Cougars qualified for Districts, led by Ches-Mont Girls Champion Ava O! Ava fired a 1-under 71 to win her second Ches-Mont Championship. Other qualifiers include Mia, Maria, Silvana, Ava L, Jake, Colin, & Bryan. Good luck at Districts to all!

Girls are Ches-Mont Champions after finishing 10-0 in league play!!!

Congratulations to Damek on his albatross on hole 7 at Inniscrone!

Another big day at the Hershey Invitational for the Cougars! The Girls won the Team Championship with a 230 total (beating the low boys' team by 1). Ava O won the Individual Championship with a 73 (beating the boys' champion by 1) while Mia (78) and Sil (79) also finished on the podium. The Boys' two teams finished 4th & 5th with totals of 256 and 257. Jake led the boys with a 79 (t-7th) followed by Rish with 81 (10th).

The Lady Cougars continued their strong play this season with a 1st Place finish at the Girls Golf of Valley Forge Girls Golf Classic. The team total of 320 (four scores) was enough for an 18-stroke victory. Mia finished 2nd Overall with an even par 71 while Ava O finished 4th with a 77. Mia was also low Sophomore in the event while Ava O was low Senior. Closest to the Pin prizes were also won by Mia and Silvana.

The Lady Cougars opened the season strong with a 4th consecutive team victory at the Lady Hatter Invitational. Maria finished 1st individually while Silvana finished 3rd. Great start ladies!

The Boys' opening match was postponed due to course closure/rain.
Thanks to all the participants and sponsors who made this year's Golf/Basketball Outing a success!

Be sure to follow our social media accounts (@DEastGolf) on Instagram, Twitter, and Facebook!
2020 Summary:
Daily Local News All-Area Team:
Boys:
1st Team: Jake Leon

Honorable Mention: Dylan Gute
1st Team: Ava O'Sullivan

2nd Team: Mia Pace, Silvana Gonzalz, Isabella D'Ambrosio

Honorable Mention: Maria Crowe, Ava Lichok, Emily Scavuzzo

All-Ches-Mont Team:
Boys:
1st Team: Jake Leon

2nd Team: Dylan Gute
Girls:
1st Team: Ava O'Sullivan, Mia Pace

2nd Team: Silvana Gonzalz, Isabella D'Ambrosio

Honorable Mention: Ava Lichok, Emily Scavuzzo, Maria Crowe

Third Place in the State!!!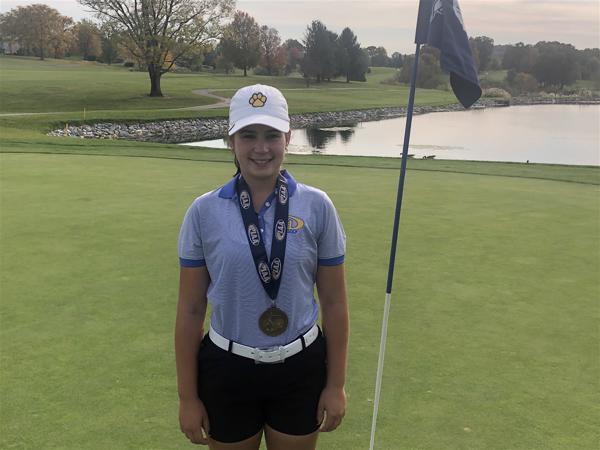 Ava shot a 2-over par 74 at Heritage Hills to finish alone in third place in the State Championship. She recorded three birdies on the day en route to earning the bronze medal.

District 1 Girls Individual Champion!!!
Ava O fired a 3-over par total 146 At Raven's Claw and Turtle Creek to win the District Title by two strokes. A three-way tie with three holes to play quickly turned in Ava's favor with a birdie on the 16th and a two stroke lead that was not relinquished. She now makes a return trip to States on October 20th. Good luck Ava!
For the Boys, Jake finished the tournament in style with an eagle on the 18th hole to sneak into a 4-for-1 playoff. Unfortunately a missed putt on the first playoff hole ended his chances, but it was a valiant effort nonetheless.
The Girls Team took 2nd Place in the District for the third time in the past four years. Way to go ladies!
Congrats to Ava O for winning the Ches-Mont Girls Individual title thanks to her stellar round that included six birdies en route to a 1-under 71. Ava advances to next week's District 1 Tournament along with Mia (80, 5th place) and Silvana (94, t-11th). As a team, the girls finished 2nd behind Unionville.

On the Boys' side, Jake(75, t-7th) and Dylan (79, t-18th) qualified for Districts. The Boys team finished tied for third in the National Division.
Ches-Mont Championship Results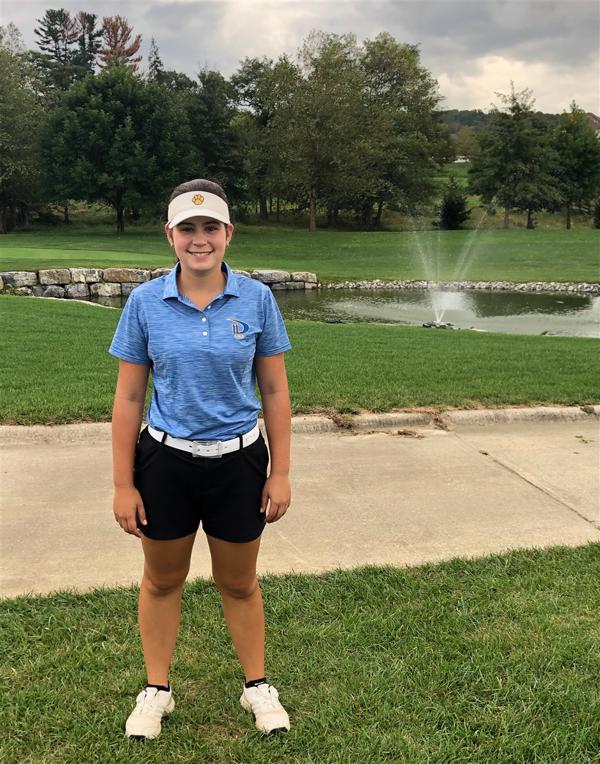 Ava O'Sullivan, Ches-Mont Girls' Champion

2019 Summary:
Daily Local News All-Area Team:
Boys:
2nd Team: Evan Drummond
Honorable Mention: Andrew McCook, Matt Walsh

1st Team: Ava O'Sullivan

2nd Team: Anisha Sonti, Ava Lichok, Isabella D'Ambrosio, Katelyn Samples, Maria Crowe
All-Ches-Mont Team:
Boys:
1st Team: Evan Drummond
2nd Team: Jake Leon, Andrew McCook
Honorable Mention: Matt Walsh
Girls:
1st Team: Ava O'Sullivan, Anisha Sonti, Ava Lichok
2nd Team: Isabella D'Ambrosio, Katelyn Samples, Maria Crowe
2019 Highlights:
State Qualifier
Ava O'Sullivan advanced to the PIAA State Championships where she finished 14th in Pennsylvania. On her road to States she compiled a 6th place finish at the PIAA East Regional, a 9th place finish at the District 1 Tournament, and a 3rd place finish at the Ches-Mont Tournament.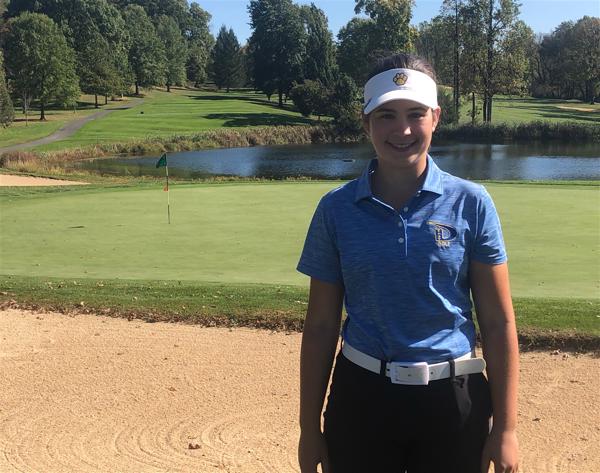 Ches-Mont National Division Champions
The Boys finished with a 10-2 Division record and narrowly defeated WC Henderson and WC East at the Ches-Mont Tournament to clinch the National Division title.
The Girls finished with a 9-1 League record, tied with Unionville, but ultimately fell short of a league title in a tiebreaking match.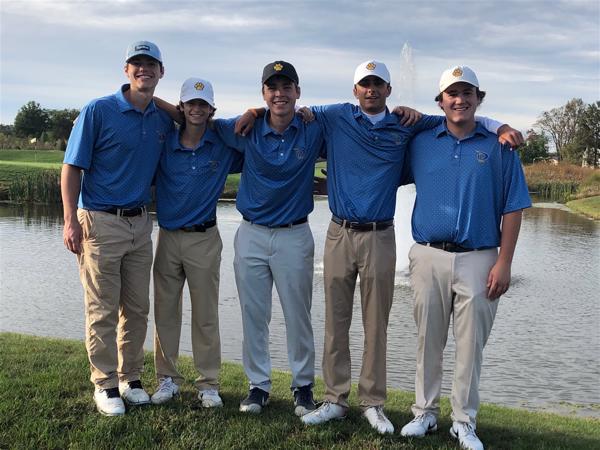 District 1 Competition
In team District results, the Girls team finished in 3rd place while the Boys team finished in 10th place.

Ava O'Sullivan finished 9th on the girls' side while Jake Leon finished 25th on the boys' side.
Other individual District competitors were Evan Drummond, Matt Walsh, Andrew McCook, Anisha Sonti, Katelyn Samples, Isabella D'Ambrosio, Ava Lichok, and Maria Crowe.
Hershey Invitational Champions

Ava O'Sullivan (74) and Evan Drummond (75) each finished first in their respective division at the Hershey Invitational! Both the boys team and the girls team finished 2nd in their division.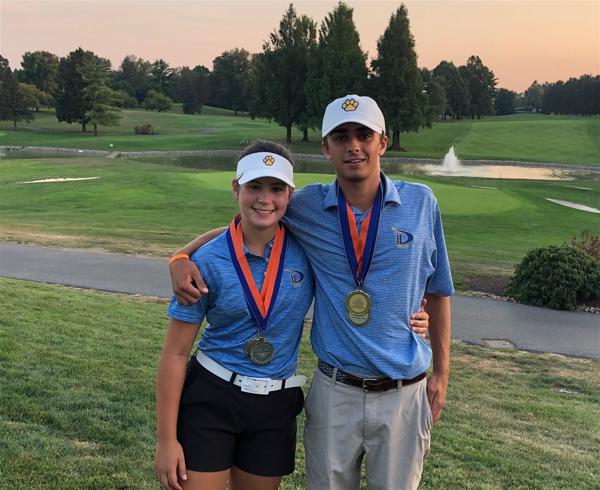 _____________________________________
2021 District 1 Girls AAA Team Champions
2021 Ches-Mont Girls Golf Champions
2020 District 1 Girls AAA Team Runner-Up
2019 Ches-Mont National Division Champions
2018 PIAA Girls AAA Team Runner-Up
2018 District 1 Girls AAA Team Runner-Up
2018 PAC Girls Golf Champions

2017 District 1 Girls AAA Team Runner-Up
2015 Ches-Mont National Division Champions
2014 Ches-Mont National Division Champions
2014 Ches-Mont Tournament Champions
2013 Ches-Mont National Division Champions
Boys' Head Coach: Scott Yard
Girls' Head Coach: Matt Grinwis
Latest Results
ChesMont Tournament
September 28
High School
Leon. J (+4)
Drummond. C (+8)
Wright. B (+8)
Home Match vs. Shanahan/DWest
September 27
High School
Drummond. C (+2)
Szustak. D (+4)
Eitzen. J (+6)
Away Match @ Avon Grove
September 22
High School
Leon. J (+2)
Szustak. D (+4)
Wright. B (+5)
Current Rankings
Downingtown East High School Cougars
2021 Season
As of 9/28/2021 9:10:52 PM